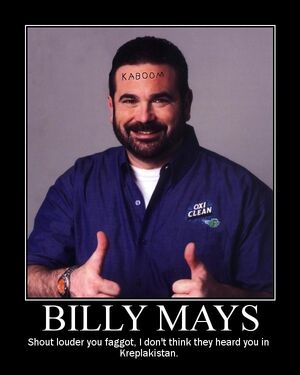 "Kaboom, and your stains family are is gone!"
--- Billy Thorton Kaboom Mays on his new cleaning killing product, Kaboom.
Billy "KABOOM" Mays (often called by his maiden name "Billy "Thorton" Mays") was a guy who selled some stuff he called gadgets (wow big word, huh?). He also selled things called Food. He invented the contraptions called the Washer and the Dryer by inventing the big City Detergent Ball. For his actual Un-Yoshi Bio, click here.
He and The Burger King are currently seeking world domination.
Ad blocker interference detected!
Wikia is a free-to-use site that makes money from advertising. We have a modified experience for viewers using ad blockers

Wikia is not accessible if you've made further modifications. Remove the custom ad blocker rule(s) and the page will load as expected.