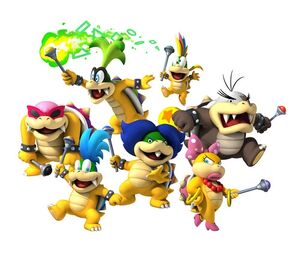 Ludwig von Koopa (Kooky von Koopa)
Lemmy Koopa (Hip Koopa)
Roy Koopa (Bully Koopa)
Iggy Koopa (Hop Koopa)
Wendy O. Koopa (Kootie Pie Koopa)
Morton Koopa (Big Mouth Koopa)
Larry Koopa (Cheatsy Koopa)
There were once 6 kids named Ludwig (who was a kooky koopa so he got nicknamed Kooky), Morton Jr. (who was such a big mouth and always ran it, so he got the nickname Big Mouth Jr.), Iggy (who was always to hoppy so he got nicknamed Hop Koopa), Wendy O. (who was nicknamed Cootie Pie for unnamed reasons), Lemmy (who was such a goof-off but he got called Hip), Roy (who was such a bully so he got called Bully Koopa), and Larry (who was called Cheatsy Koopa for unnamed reasons)
New Super Malleo Bros Wii
Edit
In New Super Malleo Bros Wii, the Koopalings are seen fighting with the Kupalings over who the real ones are at the end.
Super Malleo World TV Series
Edit
In the Super Malleo World TV Series, the Koopalings are still fighting with the Kupalings.
Hmm. Interesting
Edit
As it turns out, the koopalings (except for Ludwig) were clones...
Ad blocker interference detected!
Wikia is a free-to-use site that makes money from advertising. We have a modified experience for viewers using ad blockers

Wikia is not accessible if you've made further modifications. Remove the custom ad blocker rule(s) and the page will load as expected.