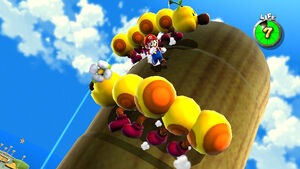 Wigglers are evil bugs known to Yoshi as caterpillars.
Super Malleo Sunshine
Edit
In Super Malleo Sunshine, Wigglers were green, over eight feet long, and had an attitude of a Koopaling.
New Super Malleo Bros Wii
Edit
In New Super Malleo Bros. Wii, they were average Wigglers, and instead of green, they were yellow.